Peter Kingsland
—
UK & Eire Sales Director
+44 7980 613 928
peter.kingsland@icomera.com
LinkedIn
Peter Kingsland has been promoting innovative mobile connectivity solutions for the industry for over a decade. This builds on his previous career experience in bringing new telecommunications service concepts to market.
Gabriel Lopez-Bernal
—
US Road & Transit Director
+1 305 494 1094
gabriel.lopez-bernal@icomera.com
LinkedIn
An experienced Sales Director with a proven record in the transportation technology sector, Gabriel's understanding of mobility-focused enterprise solutions is complimented by qualifications in Urban and Environmental Policy and Planning, and Civil Engineering.
Darrell Anslow
—
Director of EMEA Accounts
+46 (0)70 490 43 81
darrell.anslow@icomera.com
LinkedIn
Experienced Director of EMEA Accounts with a demonstrated history of working in the IT and Telecommunications industries. Skilled in Sales Management, IT Strategy, Management, Account Management, and Business-to-Business (B2B) Sales.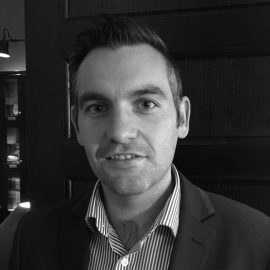 Stephen Sanders-Hall
—
UK Senior Technical Director
+44 7596 113 663
stephen.hall@icomera.com
LinkedIn
Strategic account management and developing our large existing customer base. Stephen Hall is responsible for developing Icomera's UK's offering and long term future strategy/direction.

Jonathan White
—
Director of Rail Sales, Icomera US
+1 571 527 8310
jonathan.white@icomera.com
LinkedIn
An experienced and flexible Director with a wide range of skills and professional experience, Jonathan supports clients achieving their strategic objectives through effective communication, technical knowledge and commercial acumen.
Emilie Raspaud
—
Director of Sales Enablement EMEA
+46 (0) 00 19 828
emilie.raspaud@icomera.com
LinkedIn
Emilie Raspaud is a Director of Sales Enablement with extensive experience in the management of large-scale Bids and Projects within the transport sector and throughout the EMEA region.
Our vision of the future is a society that is safer, more efficient and more environmentally friendly. Our wireless Internet connectivity solutions deliver a better public transport experience for passengers and we believe this is critical to improving the economic and social quality of life for the population.